Arranging your perfect Paris vacation!
Travel Light Paris is your bespoke travel consultant and concierge service in Paris. As well as curating your perfect Paris vacation from A to Z, we also offer a range of services to help you make the most of your vacation in the City of Light, including welcome baskets of French goods delivered to your Paris accommodation, orientation visits of your Paris neighborhood, and recommending and booking everything from the best Parisian restaurants to concert and museum tickets, excursions and activities, or just helping you perfect your personal Paris itinerary. We use our local knowledge to provide exactly what you need to make the best of Paris, and deliver it all to your door on arrival.
Travel Light Paris takes care of your stay, from the ordinary to the extraordinary, helping you realize your dream trip to Paris!
INSPIRATION AND SUGGESTIONS
To inspire you, Travel Light Paris' ideas include, but aren't limited to: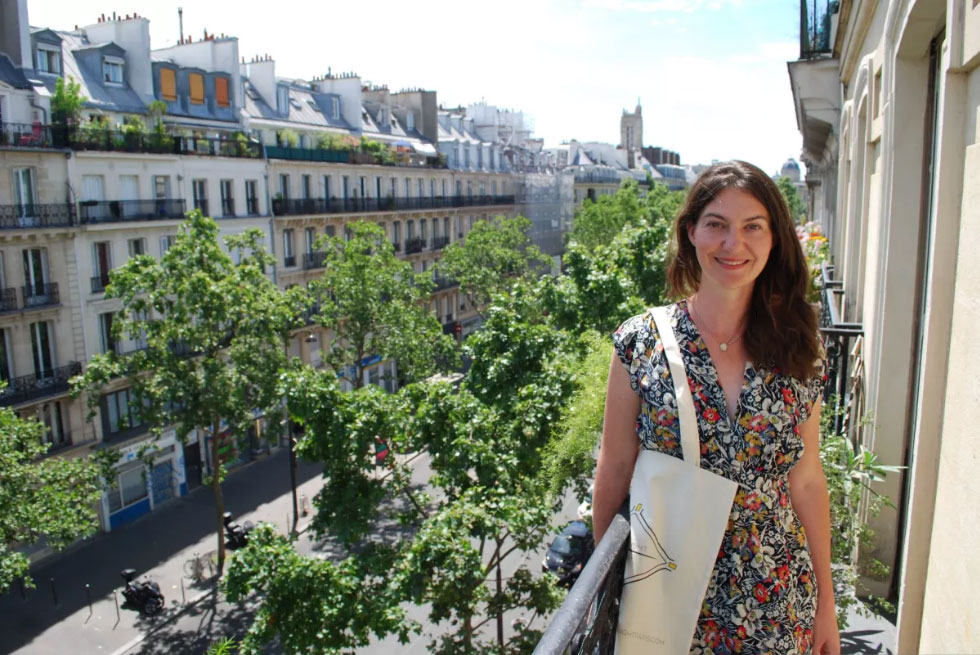 After 13 years in Paris, mostly managing vacation rental apartments, I created Travel Light Paris to concentrate on helping visitors to Paris plan and book their perfect Parisian vacation. I'm a passionate travel consultant who loves to help visitors prepare their trip to Paris without stress or language barriers, saving you time and sharing my local knowledge for an authentic Paris experience.
Our service is professional, organized, friendly and knowledgeable!
Contact:-
It was a great pleasure working with you. Your willingness to accept emails and answering our questions while we were touring was very helpful. We were sorry our timing didn't work out for meeting you as we would have been delighted to have met you in person.
We had a wonderful time in Paris. Your itinerary worked very well for us and we appreciate your attention to detail; helping us secure tickets to the venues we wanted to see; and understanding our  overall needs. Your recommendations for restaurants and out of the way places were delightful and most appreciated.
Thank you again for helping us plan a memorable celebration of our first anniversary. The Mass on Saturday evening at The Church of Saint Sulpice was unique. To be able to attend Mass in a church that was built in 1646 with murals painted by Eugene Delacroix just added to the memory of our anniversary. On Sunday, our anniversary celebration at Monet's Garden in Giverny was beyond our expectations and the lunch at Le Jardin des Plumes was exceptional. The staff made us feel so welcome; the location  perfect; and all of the 5 course gourmet dishes were delicious. After a 2-1/2 hour lunch, we didn't think we could eat again for a week! As you recommended, we finished up the day with a visit to the Marmottan Museum to view Monet's works of art! It was well worth the trip.
All in all, the Paris trip was so much more special because of your attention to detail and recommendation of venues. We will definitely recommend you to our friends who may be planning a trip to Paris.
We want you to know how very much we appreciated your expert help with our fantastic Paris visit.  We loved every minute and only wished we had a couple more days in your wonderful city!  You were so great to work with and made us feel comfortable expressing our thoughts and preferences, while making suggestions with which we were so pleased.
Starting with Robert, our driver from the airport, we had a relaxed feeling and enjoyed the ride to our hotel.  The well-timed CV2 Tour, on the the first day, was fun and informative.
The private guide that you hired for our Louvre tour was absolutely the best!  She was extremely knowledgeable, but more than that, she personalized the tour and knew just how to establish great rapport.  Rochelle's personality made us feel like we were touring with a friend.  This tour of the Louvre was definitely a highlight!
We also were enthralled with Versailles and our guide.  Again, our guide made all the difference.  She was excellent.
I won't go through each activity, but suffice it to say that, thanks to you, we felt we had a good balance and were thrilled with the museums, the cruise on the Seine, and the overall beauty of the city.  The shops were also quite the lure on the last day.
Your well-chosen restaurant suggestions were also perfect for our group.  We all were amazed at the talented chefs and the variety of delicious food.  Robert, Ellswoth,  and Bistrot du 11, were especially able to make inventive modifications on the spot, for me, so I never felt like I was missing out.  We all found great food everywhere we ate.
Lastly,  we were struck by the friendliness and helpfulness of all the people we encountered.  Even though you don't have control over all, you fit right in with our overall impression of the "city of light."  We will highly recommend you and pass along your contact information to our friends and people who are contemplating a trip to Paris.
Many thanks again for helping us create memories of a lifetime.
Karina at Travel Light Paris made my (our) trip to Paris perfect! I was traveling to Paris with four members of my family for a one week visit.  I wanted to see what I wanted to see comfortably. I am a 86 year old woman and I was traveling with my daughter-in-law, her parents and my grandson, age 14.
We were in Paris to visit my granddaughter who was there for her Junior Year of college. Not knowing if I am going to get to Paris ever again, I had a few items on my "bucket list" that I wanted to see.  I was so lucky to get in touch with Karina at Travel Light Paris and explained what I needed. Karina was FANTASTIC!  She understood what I needed and we worked
together to set up a plan for my week stay.  The plan had options for everyone in the group, even ideas for the 14 year old grandson. It ended up that everyone wanted to join Karina and me as we spent three days visiting the sites on my list.  Karina mapped out the itinerary, got the tickets, picked me (us) up at the hotel, took  us to the museums, knew where to get lunch, and how to maneuver the travel from place to place.  Karina was so pleasant, helpful, fun to be with, and efficient--we could not have managed without her and her knowledge of Paris. I recommend hiring Karina for any of your travel plans in Paris.
Karina did a fabulous job planning the trip my daughter and I took to Paris! I would highly recommend her services. She communicates very quickly. She set up things based on our interests. She even gave us directions from our apartment to all the activities and tours. She had great recommendations. She advised the days and times to book different tours and shows. She made dining recommendations and set up dining reservations. She sent all the links to book the activities. Everything went very smoothly. The private driver she set up was excellent. I would advise anyone going to Paris to use her services.
Had a lovely trip over Christmas break. Karina planned all of our tours and dinners and it was fabulous. All restaurants were an experience on its own and delicious. We got to have lunch in the Eiffel tower. Tour the Louvre, L'Orangerie and d'Orsay. It was great and she communicated very well with us and made some suggestions when things were cancelled by Covid. Loved it.